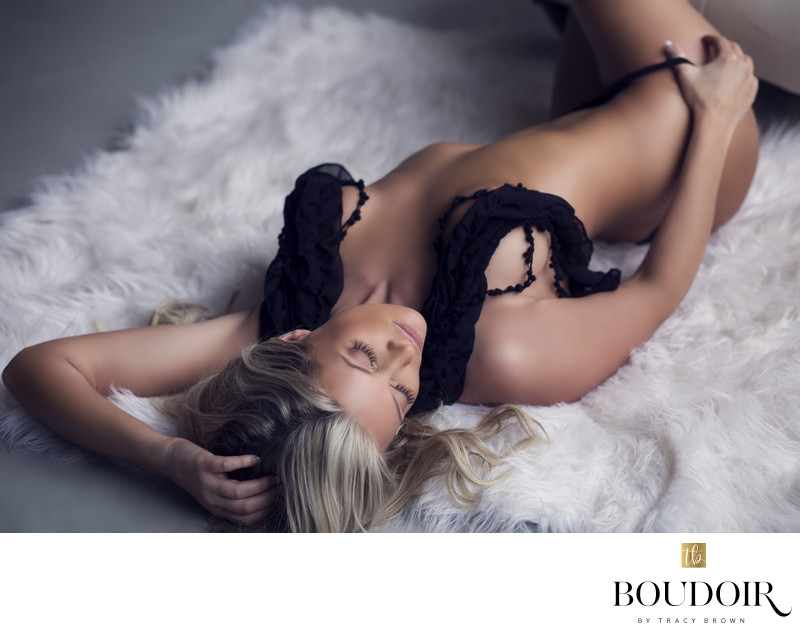 FAQ
Why hire Boudoir by Tracy Lynn?
I have specialized in this niche of photography. I acquired the education and experience to back up what I sell. A session with Boudoir by Tracy Lynn is not just a standard session, it is an entire experience. You will feel confident, special and beautiful through the whole process.
Is hair and makeup required?
Hair and makeup isn't required, but it is highly recommended! I book an excellent hair and makeup artist, who will make you look and feel fabulous. Part of this boudoir experience is to feel pampered and special right?!
Do you book sessions on the weekends?
I am only in the studio on Mondays and Tuesdays and one Sunday a month.
How do I prepare for my session?
The most preparation you should do is hair and makeup and wardrobe decisions, which I am happy to help you with! If you want a spray tan, I can recommend an excellent specialist. Email me for more info! I definitely don't recommend crazy diets, this is about being comfortable in the skin you're in! I know the female body, and I understand flattering poses for every body type. You will most definitely feel and look beautiful during the photography session and in the images.
What should I wear?
We will go into a deep discussion about this at the pre-consult session, so don't panic about this. We will make sure the session is completely you that your outfit selection reflects that.
Will my images be online?
I will only ever share what you are comfortable with. If you want your images to be completely private, that is most definitely your choice and I will respect your wishes.
How do I schedule a session?
Email me at hello@boudoirbytracylynn.com and we will get your session set up! I can't wait to meet you. :)
Is there a minimum purchase requirement?
Yes. I require a $400 minimum purchase. I have to make this each session in order to keep my business open and continue to help women see their beauty!
Do you do boudoir parties?
Yes! The more the merrier!! Find out more here!
What about Bachelorette Parties??
I do! Find out more here!
Keep up with Boudoir by Tracy Lynn!
Interested in a special offer?
Website Terms of Use
Website Privacy Policy